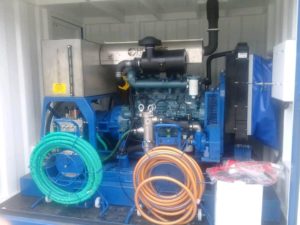 ULTRA-HIGH PRESSURE HYDROBLASTING & CUTTING:
Our highly customized and automated systems utilize water pressure up to 40,000 psi for safe effective cleaning, surface preparation and cutting.
Benefits of Ultra-High Pressure Hydroblasting
The dynamics of high-speed, pulsating water from ultra-high pressure hydroblasting produce incredible benefits for industrial cleaning, surface preparation, and cutting applications. The energy generated by the UHP water jet exceeds the bonding energy of even the most adherent scales, coatings, or process contamination.
Reduce Your Downtime
Specially designed equipment, automated tooling, and a vast number of different nozzle configurations increase the ways you benefit. UHP water blasting reduces downtime, and improves safety performance.
You will get the ultimate in reduced downtime and improved safety and precision. We engineer a custom job design with experienced employees and specialty automated equipment.
We also provide the responsiveness you need with minimized travel time. Our teams and equipment are highly mobile and available throughout our vast geographical service area.